This past week Leif had his first exhibition.  The first of many.  Let me explain…Leif goes to a very cool public charter school called Evergreen Community Charter School.  It's a regular public school in that it looks like the typical elementary school you might imagine in your mind.  But, at Evergreen, learning and evaluating learning looks a bit different than at other schools.  At Evergreen, the kids are led through "Expeditions", where all of their academic learning is integrated and practiced through the lens of the particular expedition they are doing.  So, for example, this past expedition was called "Community Workers", which acted as the focal point for learning all subjects in the classroom.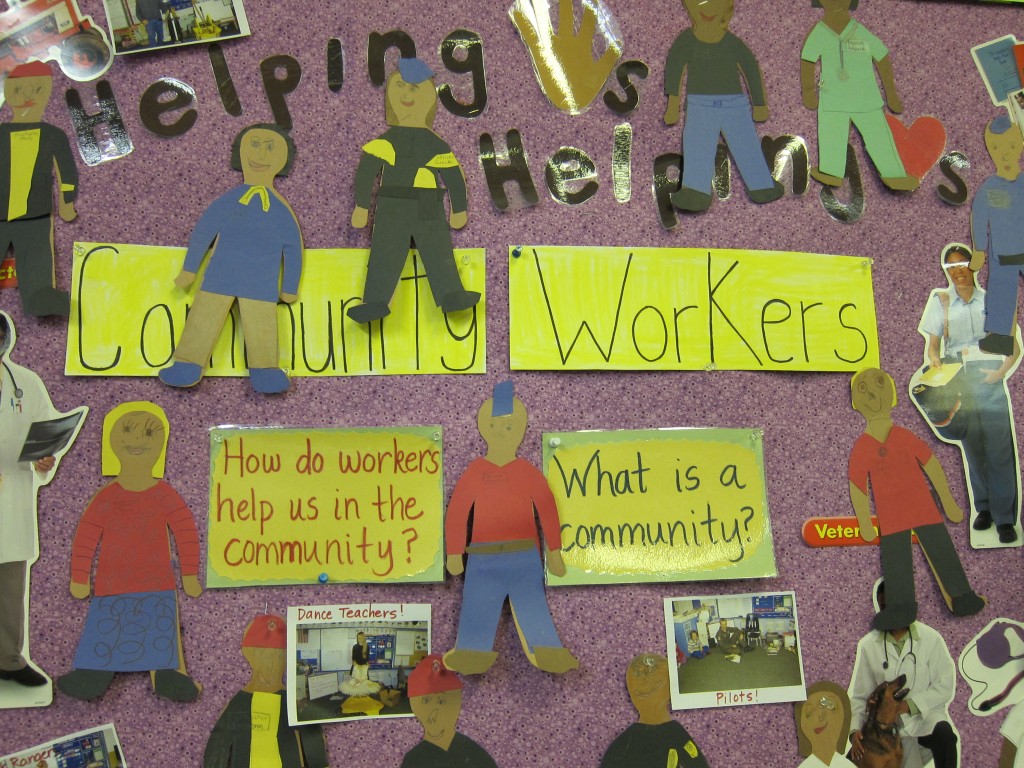 And then, rather than sitting down and taking a test, at the end of each expedition comes an "Exhibition", where the students present their learning to their community…parents, teachers, administrators.  Clearly, this looks very different for the different grades. But, in kindergarten, this is what it looks like…
Leif. Dressed up as the community worker he interviewed…a geologist.  Down to the izod shirt (tucked in!) & belt (which you can't see, but he insisted was very important).  Here he is sitting in front of the model he built of the local earth science museum where his geologist friend works.  Leif's teachers worked tirelessly to create a model with each child in his class…impressed?  I was.
In addition to building the model, each student had put together a "report" that recorded the process of their learning.  It included the original interview questions, some research the student completed with their sixth grade buddy, as well as written piece of their very own and some art work.
When we entered Leif's classroom on exhibition night, it had been transformed.  It had become a city.  On the floor were little black roads made from construction paper  that connected all of the children as they sat proudly beside their work.  When we entered the classroom, we were handed steering wheels and asked to "drive ourselves around" to visit the different workers in the community.  This was the sweetest thing of all.  Imagine…families milling about the classroom "interviewing" one another's children, asking thoughtful questions, looking with care at their work, and ultimately, celebrating them.  I truly have never seen Leif so confident and so proud of himself.
Leif must have spoken to at least ten parents during the time we were there, and he still didn't seem tired of it.   At one point, I attempted to lean over and listen while he was talking with another parent and he looked up at me with wide eyes, while saying through clenched teeth, "Mom, GO AWAY, I'm talking right now!"  So, off I went…only intruding with my camera when I could.  🙂
We all left Leif's first exhibition feeling proud of what Leif has accomplished at school so far this year.  I mean…wow!  Leif can read now! He can communicate a thought through writing. Most importantly, though, my son's incredible natural curiosity for the world has been nurtured.  School is fun.  He reads on his own because he loves it.  He draws wildly and with great focus.  He has good friends, he plays hard and he feels a part of a community.  I know how hard it is to be a teacher, let alone an amazing one, and I have so much respect and admiration for both of Leif's teachers.  Their love and passion permeates their students very beings.
Here is the final image I will leave you with.  At the beginning of the year, each student is asked to complete a self-portrait.  They are asked to do another one at the end of the year.  So his teachers say, it's pretty incredible how much change there is.  I'll let you know.