Last week Kai Arthur turned three.  Look at him…all sweet and big and wild in his three year old self.  Here he is embodying every single attribute of his self-designed, multi-themed party:  The Green Super-Hero Kitty & Cape Party.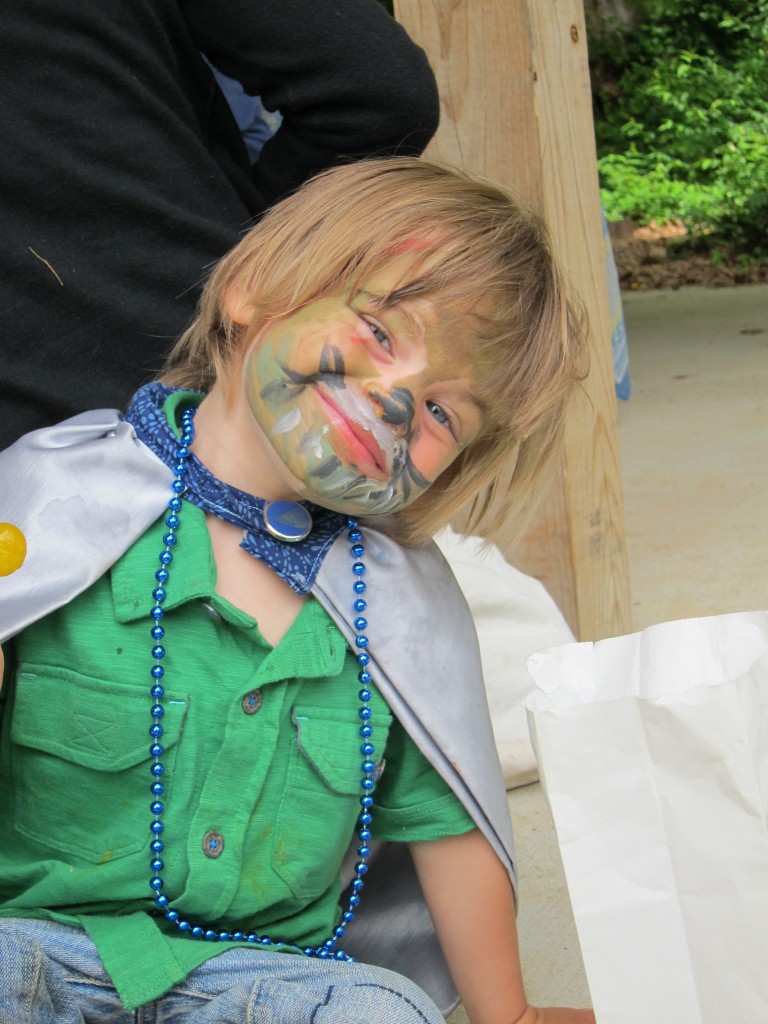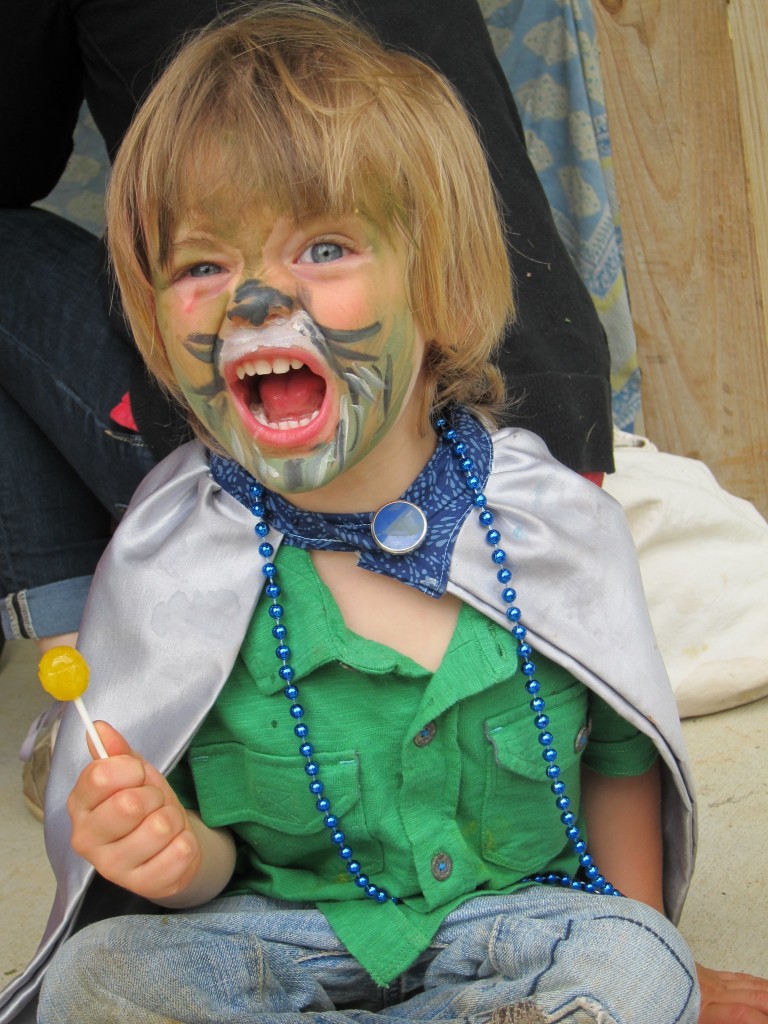 The best part is that other than putting that green shirt on him, I didn't do a thing…the cape, the green kitty face, his embodiment of his super-hero persona…that was all him.
Kai had a super birthday weekend surrounded by so many who love him.  First, his Nanny and Bapa arrived and we spent the day at the LEAF festival.  It was music, bubbles and dress up costumes all day long.  This was followed by the sweetest gathering of our family ad fifteen amazing little people ages six and under that you can imagine (and their amazing parents, of course).
The day of Kai's party began with the unwrapping of gifts from Nanny & Bapa and Poppy & Grammy.  In true Leroy style, the unwrapping was followed by toy assembly, which is truly just about as meaningful as the toy itself.
Kai was showered with gifts…race boats and a grabber, stuffed animals, new cars, videos, an airplane from Leif, and his very own trumpet, (from his dad, of course.)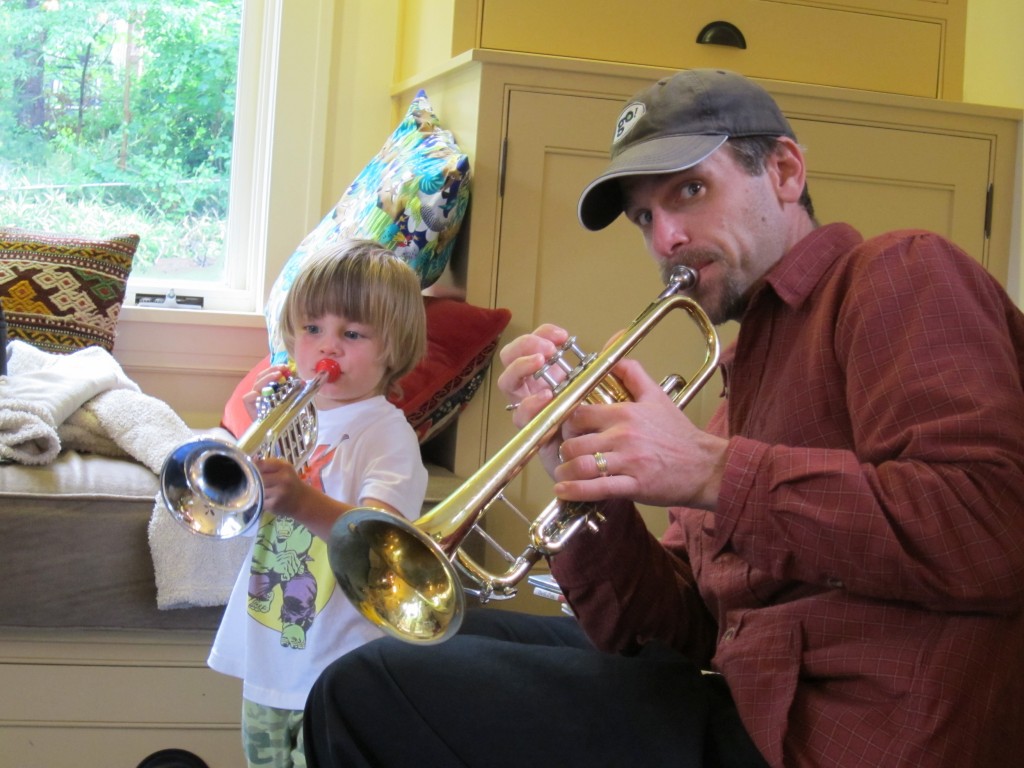 Papa Rich, knowing Kai's affinity for cats, as well as his love of catchy sing-along tunes, wrote him a song about his cat called "Charlie Cat", sung to the tune of Davey Crockett.  Guess who will be rocking that at bedtime soon?  You know it.
My friend Jean even made Kai his very own set of wings.  Aren't they beautiful?
All of the gifts were so thoughtful and brought great joy, but the most precious part of the day was seeing Kai surrounded by all of his friends.  As I watched him play with his buddies, I felt profoundly grateful for each and every one of them and the gift of friendship they give him all of the time.
Really, Kai has no choice but to be surrounded by other little ones, since I do child care out of our home.  What I find so sweet is how much being surrounded by  his friends has changed him…has helped him grow into such a dynamic and sweet (and still very spicy) little guy.  Since last fall when we began having other children in our home I have seen such an incredible evolution in his ability to be a friend.  Last fall Micah was Kai's best and only true friend…and even then, they were little and their friendship was more defined by space and time, then by their heart's desire. But now, I can truly say Kai has forged a real, true friendship with each of the little people that visit our house on a weekly basis.  He as learned to engage with each of them, just where they are at…from Daphne, at 18 months to Ryan, who is 9.
And, oh yes, I must take a minute to mention the cupcakes…they were lions (the "kitty" part of the theme).  Dan and I found ourselves up way too late the night before the party cutting those little pieces of shoe string licorice.  A true labor of love, for sure. Wish we had a picture of that to share.
And, last but not least, a part of the party not at all included in the theme, but oh so much fun…riding the bmx track.
Happy Birthday, sweet Kai…we LOVE you so.